A LITTLE ABOUT US
Our goal is simple: to make broadheads that make meat and great memories for the people shooting them.
We don't take ourselves too seriously (thus the name) and you won't find the industry standard testosterone-laden, ego driven BS here.
We aren't raging, wacking or swhacking. Not wreaking havoc or conjuring the grim reaper. We're not filled with rage or hate for wildlife and we're not at war with them.
We are bowhunters.
We enjoy the challenges of making meat with a bow and arrow, and take our responsibility to make a clean, ethical kill, very seriously.
Losing a wounded animal because the wimpy, wide blades on your open-on-impact head get hung up on a front shoulder or rib – that's not a great memory. Nor is shooting one of these contraptions at a big game animal an optimal equipment choice.
Our broadheads are not designed to cut wide, shallow wounds on tissue-only shots, because animals aren't killed ethically by loss of blood.
Our heads are designed to
bone, because animals are killed most ethically by deflating both lungs.
Why and How
---
Why
---
First, because we are frustrated and concerned by the ineffectiveness of many of the broadhead and arrow combinations being shot by bowhunters at living, breathing animals. Second, we noticed that the existing single bevel heads on the market aren't optimally designed, especially for those of us shooting high-speed compounds.
There are too many companies today hocking gimmicky junk to well-meaning bowhunters. They have been talking to us for the past few decades about Kinetic Energy, speed and shooting one pin to 60, marketing products designed to whack 'em and stack 'em, open big holes, fly like field points, rage against nature, and a bunch of other nonsense.
The problems with these products arise when the broadhead meets the bone!
We as bowhunters owe it to the animals we hunt to shoot a set-up that maximizes momentum and penetration on sub-optimal hits – like a front shoulder or rib. If you've been doing this long enough you know that sh!t happens – animals jump strings, nerves get ya, arrow deflects off a branch you didn't see. When your broadhead hits bone, you have to know it's going to have enough oomph to break solid bone and poke a hole through both lungs.

Our mission was to produce heads that tune easily, whether out of the best engineered compounds or your stickbow, and "Break Through" bone.
How They Work
---
Single bevel blade that when matched with the correct fletching creates rotation through the air and through the animal
Narrower and Smaller than any other single bevel on the market to minimize drag through tissue and bone & make it simple to tune, even out of the fastest compounds on the market
Heavy and solid to increase your arrow's FOC and maximize penetration on bone hits
More weight toward the tip than your typical triangular designs, to minimize bending on bone hits
No venting to minimize drag created by vents hanging up on tissue or bone, and eliminate inconsistent flight and noise created by wind moving through vents
Teflon coated to minimize drag and increase penetration
---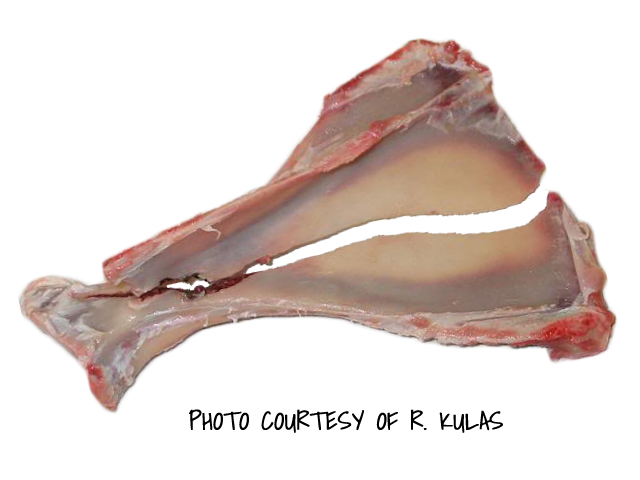 Single Bevel Rotation
A single bevel head rotates in flight due to the uneven force being applied to the blade as it flies through the air. In order to achieve proper rotation, the head bevel must be matched with the correct fletching.
If you're shooting a compound: a right bevel head needs to be matched with a right helical or right offset fletch, and vice versa with left bevel.

If you're shooting a stick bow: a right bevel head needs to be matched with right wing feathers and fletched in a right helical jig, and vice versa with left bevel.
The head rotation creates a lever when the blade hits bone, opening up a big hole for the rest of the arrow to pass through with minimal drag. Compare this to a mechanical head, or chisel tipped three-blade design. Those designs simply don't penetrate bone as well. They are not efficient designs. See some video evidence here.
The in-flight rotation also creates increased consistency. Think of rifling in a barrel as an example – spinning the projectile keeps it on a tighter path.
Benefits of a narrow head
Narrow head = less drag = better penetration
Narrow head = less planing = optimal arrow flight = better penetration
Narrow head = easier tuning = optimal arrow flight = better penetration
I often hear guys complain about the difficulty of trying to tune fixed blades out of a compound, well it ain't that hard…if you have a properly tuned set-up. I don't like saying "properly tuned bow", because really you have to tune your arrow to fly correctly out of your bow. You can change things on your bow to accomplish this but ultimately it's arrow flight we're concerned with. If you can shoot field point tipped bare shaft bullet holes down range, then you can tune those arrows with the correct fletching to shoot our broadheads.
---
Straw vs. Pencil vs. Dart illustration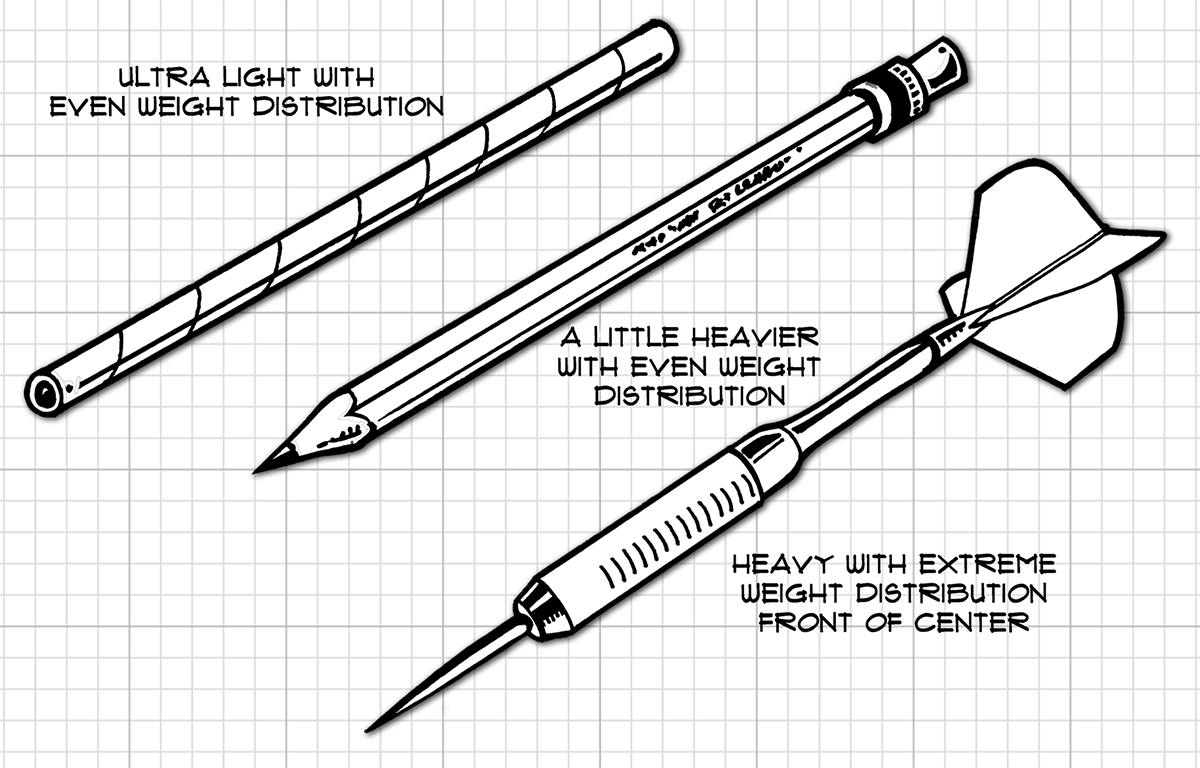 Heavy, Solid Heads
A heavy head ensures that more of your total arrow weight will be front of center. High FOC arrows are more accurate because they are less susceptible to being pushed off course by wind or other factors. High FOC arrows also penetrate better because the mass is up front, acting like a hammer, while the tail of the arrow is only there to help steer. Here's a great illustration to show what we mean:
Our blades have more weight toward the tip
Your standard triangular designs are more prone to bending on bone hits, which impedes penetration.
Strong and Durable
One piece design CNC machined from high grade carbon steel and treated to 55 Rockwell hardness.
No Venting
Anything on a broadhead or arrow that might hang up on tissue or bone is going to negatively impact penetration. Venting, especially on broadheads shot out of high speed bows, make noise and noise is bad. Venting can also create inconsistency in arrow flight, especially at longer distances.
Teflon Coated
Less drag = better penetration
Narrow and Shorter than any other single bevel on the market Narrower and shorter = less drag = easier tuning = better penetration
Bone Splitting Leverage
25-degree bevel angle for bone splitting leverage